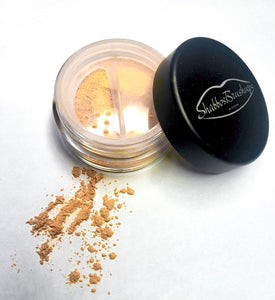 This is the perfect foundation color for warmer tone skin. When you already have that natural, beautiful bronze skin and just want to create a smoothe complexion.
Foundation Info:
The powder Foundations give nice coverage and feels so light on you skin. The  matte consistency creates no shine and full coverage. The glow foundations has more of a creamy affect and dewy coverage. The way to know what is best for you is knowing your skin. If you have oily skin, you should wear matte foundation and if you have dry skin you should wear the glo foundation.
Tips for application-  dip powder into cap and dip brush in and shake off some powder . Use flat brush for the best coverage by dabbing onto skin rather than sweeping it. 
Recommended brushes - flat foundation brush 
20 gram. .67 0z
4 gram Capacity.