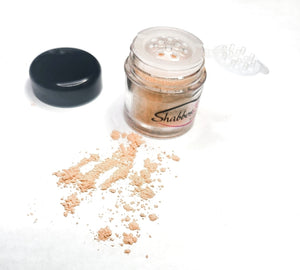 A concealer for light to medium skin tones.
Cover darkness under your eye or redness in small areas of the face with this amazing full coverage concealer!
Tips for application- open sifter and shake powder into cap. Dip concealer brush in powder and apply under eye or other areas needed by tapping it on. Using a flat concealer brush will give more coverage than a fluff brush.
Recommended brush - flat concealer brush.
5 gram, 5 ml, 0.17 oz
3 gram Capacity.