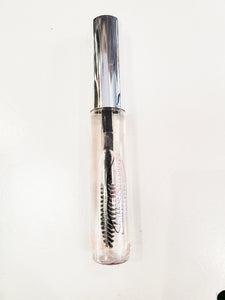 This Clear liquid Mascara gives volume to your lashes. 
 TIPS: Brushup your lashes with mascara wand in a slower pace to create more volume.  
 SHABBOS APPLICATION: It is recommended to apply this Clear Mascara on top of clean lashes. If you have your previous mascara on from before you shabbos, you may apply the clear mascara on Shabbos day, as long as lashes are dry. DO NOT mix any liquids with powder on Shabbos. 
10 ML.
Mascara  - Water, Propylene Glycol ,pvp/dimethylaminoethylmethacrylate copolymer, polysorbate , carbomer, triethanolamine, diazolididinyl, uream methyl-paraben, prophyparaben.