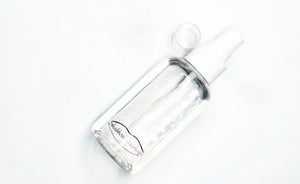 FACE CLEANSER/ MAKEUP REMOVER
  No fragrance *No parabens *No oil*No alcohol 
PURPOSE: Removes makeup ON shabbos & leaves your skin clean & hydrated. May be used as a nighttime cleanser or daytime makeup remover. 
FOR SHABBOS USE: 
Spray cleanser on face and Dab off makeup using a dry washcloth/ towel. 
Make sure face is completely dry before applying Brushups makeup on Shabbos.
Sleep with a clean face of makeup or take off makeup ON Shabbos. 
 4 oz. 
Cleanser remover
 - water, city Betaine, Decylene Glycol, Hydroxyacetophenone, Hexanediol, Glycerine, PEG-60 Almond, Disodium EDTA, phenoxyethanol.